Every successful business understands that sales promotions are a potent tool for enhancing sales, bolstering customer satisfaction, and amplifying brand recognition. Irrespective of your business's size or industry, there are sales promotion techniques that can boost your growth trajectory.
There are countless ways to increase your sales, with or without a substantial budget. This blog aims to help you in navigating the vast arena of sales promotions. We will explore:
The fundamentals of sales promotions, deals, and offers.
The benefits your business and customers can reap from sales promotions.
15 unique sales promotion ideas with real-world examples for each.
From classic percentage-off discounts to exclusive specials offers to joint promotions with businesses offering complementary services, there's something for every business. So, let's dive in if you're keen to learn how to magnetize and retain more customers through innovative promotions.
What is a Sales Promotion?
In simple terms, a sales promotion is an initiative by a company aimed at boosting sales or encouraging the use or trial of a product or service. Sales promotions can take myriad forms, but they all aim at persuading a target audience to become customers of a business.
Sales promotions can be disseminated over free channels like social media, email, or your website; or can be the centrepiece of your paid advertising campaigns through social media ads. A sales promotion can also be an on pack promotion for a CPG brand.  A compelling sales promotion uses striking imagery, persuasive copy, and logic to appeal to the needs, values, and emotions of your target audience, enticing them to purchase your products or services with an incentivizing offer.
At first glance, offering discounts and deals might seem like a self-destructive behaviour that shortchanges your business. However, the reality is far from this perception. Your business stands to gain immensely from sales promotions, just as much as your customers:
Mitigate risk: A balanced approach to promotions reduces risk for your company. So long as you're not offering infinite, outrageous deals that wouldn't be sustainable for your business, your promotions are likely to create win-win situations.
Generate profit: The sense of urgency and desire created by short-term offers means that your sales can increase significantly. You could end up making more profit than your standard business operations.
Acquire new customers: An attractive offer is a great way to catch the eye of potential customers.
Retain customers: Deals and discounts keep your customers engaged and content, fostering loyalty.
Accelerate your sales cycle: Promotions are excellent top-of-the-funnel offers that can coax prospects onto your nurturing path.
The benefits don't stop here. You can also clear out old stock, increase product awareness, promote a new product, reactivate dormant customers, and enhance your brand reputation.
In simple terms, a sales promotion is an initiative by a company aimed at boosting sales or encouraging the use or trial of a product or service

.
15 Sales Promotion Ideas
To kickstart your journey with this strategy, here are 15 sales promotion ideas, backed by real examples, and categorized by the business goals they can help you achieve. We'll explore promotions to enhance sales, encourage repeat business, and amplify brand awareness.
1. Power of On-Pack promotions in the CPG World
On-pack promotions are an incredibly effective way for CPG brands to drive sales and increase visibility. By offering a free or discounted product when customers purchase a certain item, you can create an incentive that encourages them to buy more.
To maximize sales and brand engagement, Brandfire created a promotion for Glanbia Performance Nutrition brand – BSN. This promotion offered exclusive branded Conor McGregor/BSN T-shirts.
Unique neck tags were designed to hang on BSN packs, each with a code.
Customers simply visited a branded website, entered the code along with their details, and received a free T-shirt.
This promotion was effective in driving sales and increasing brand visibility.
Ultimately, on-pack promotions are an effective way for CPG companies to drive sales and increase customer loyalty.
2. Free Samples: A Tried and Tested Technique
This promotion strategy remains one of the most effective sales promotion techniques. By offering free samples to all store visitors, regardless of whether they make a purchase, this strategy introduces consumers to products they may not have considered before, often cordially encouraging them to buy.
Do you have a product that you're trying to sell? Give out samples! While this works best with food (both in-store and at farmer's markets), it can also be used by many other types of businesses. The bottom line is that people appreciate things they can try before buying.
3. BOGO Promotions: Double the Fun
Buy one, get one free deal (aka BOGO) is another popular types of sales promotion. Offering two in-demand products at a reduced price and for a short time creates a sense of urgency that can boost sales. It can also clear stock, which is why, within business circles, BOGO promos are often referred to as "self-liquidating".
Bakers + Baristas ran a highly effective promotion in collaboration with the Daily Mail, giving readers a special offer of "buy one, get one free" on any coffee and muffin combination. This time-limited promotion not only generated a sense of urgency and anticipation but also significantly boosted customer traffic for Bakers + Baristas.
Additionally, this collaboration yielded substantial benefits for the Daily Mail, as it contributed to a notable spike in circulation and engagement, amplifying its reach and impact among readers.
The great thing is that these promotions rarely cost anything. In fact, they're designed to increase revenue.
4. Cashback Promotions: The Win-Win Offer
Many consumers would agree that it doesn't feel as bad to spend money when you get some in return. It's almost like paying less from the start and then having extra money to buy other desirable products.
Plus, giving back to customers in this way usually results in more loyalty and business from them. This kind of offer is a win-win for both you and your customers.
5. Lifestyle Discounts: Catering to Specific Groups
Lifestyle discounts are those that apply to a particular profession, age group, or demographic–usually one associated with an ID. They are commonly available for:
Teachers
Plumbers
Students
Seniors
While you can offer these promotions year-round, there are also months and days of the year dedicated to specific groups of people, so be sure to take advantage of that. For example, back-to-school discounts are great August promotions. Keep an eye on your calendar for these monthly marketing themes so that you can plan your promos well in advance and maximize their results!
6. Flash Sales and Discounts: Creating Urgency
A flash sale creates a sense of urgency among your customer base to buy now. So especially if you have a business that does a lot of online sales, flash sales may be one of the more effective sales promotion strategies for you.
There are at least two ways to go about this type of sales promotion. One, you could do a flash sale once or twice a year. Or, two, you could do one on a set schedule each month so that people are anticipating the event and prepared to make purchases on short notice.
In either case, be sure to utilize social media and email marketing campaigns to announce when the sale will be happening. You can even create a fun branded hashtag to get your audience hyped to buy!.
7. Vouchers and Coupons: The Classic Technique
You can offer vouchers and coupons via email, your website, or print materials. They are a great way to thank your current customers and to encourage them to continue doing business with you.
One way to really get people excited about their next purchase with you is to offer a mystery coupon. Not only is it interactive, but it also makes customers feel as if they're playing a game and getting more than just a run-of-the-mill discount.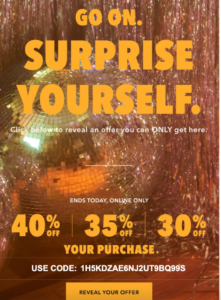 If you do give this a try, be sure to capitalize on every opportunity with a multi-pronged campaign and a strategically-crafted landing page. Even after they've clicked through to find out their discount, continue to advertise sale items or your most popular merchandise to further entice them to cash in on their coupon.
Moreover, you can use coupons to recover potential customers who've abandoned their carts. As of 2020, around 88% of online carts are abandoned. However, offering discounts to customers who may previously have only been window shopping may be the nudge they need to complete a purchase.
88% of online carts are abandoned, but offering promotions to your window shoppers just may be the nudge they need to complete a purchase.
8. Charitable Cause Promotions: The Double Win
Why not kill two birds with one stone? Make an impact in your community while attracting more customers with a charitable sales promotion. Let your customers know that for a certain period of time, a portion of your proceeds will go to a charity you support.
This could be any charity you are passionate about, or one that is related to your industry. Cause-based marketing is a triple win: the charity receives donations, you get to express your brand values and attract like-minded customers, and your customers get to feel good about where their money is going.
9. Free Shipping and Returns: The Cure for Abandoned Carts
In addition to coupons, which we discussed earlier, what's another cure for a ton of abandoned shopping carts? Four words: Free shipping. Free returns. Free shipping eliminates one of the last obstacles that could prevent people from completing their orders. This is key because hesitation can be present even when a customer has done business with you before and likes what you offer.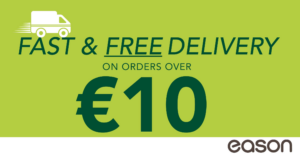 On the other hand, free shipping eliminates the anticipation of the hassle that is paying for return shipping. By getting rid of both forms of friction, you can encourage more repeat purchases from your product-based business.
The best cure for a ton of abandoned shopping carts? Four words: Free shipping. Free returns.
10. Loyalty Program Promotions: Rewarding Customer Loyalty
Rewards and loyalty programs–even those that don't necessarily pay off immediately–can be a powerful motivator for customers. Here are a few approaches you might consider.
You could double or triple loyalty points for a limited time, which can be a great incentive to buy. You might even offer a "lump sum" of points for signing up for your loyalty program, which could motivate customers to buy more than they would have initially.
The more familiar your audience becomes with your brand, the more they will trust and look forward to your business's announcements and content. Let's take a look at some sales promotion ideas to build and strengthen your brand story.
11. Joint Promotions: Expanding Reach
Whether your company owns several brands or you partner with companies in similar or related industries, you can make use of joint sales promotions. All you have to do is bundle products or services from each brand into a package and promote it via the other brand(s). Your partners can do the same for you, which means free promotion for both of you.
This type of arrangement can extend the reach of your brand. It familiarizes new potential customers with what you offer and increases the likelihood that they'll convert in the future.
Glenisk created on- pack promotion with the Disney Pixar movie – Elemental.
Glenisk created an engaging and impactful sales promotion campaign that would not only promote their organic kids yogurt product range but also provide an unforgettable experience for their customers. The primary goal was to boost brand visibility, engagement, and sales through a multi-faceted promotional campaign centred around the movie release.
Find out more on Glenisk and Elemental Promotion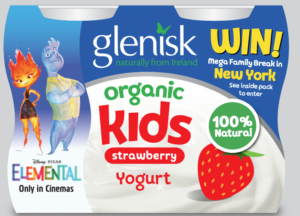 12. Social Media Contests and Giveaways: Engaging the Audience
A contest or giveaway on Facebook, Instagram, or your target audience's social platform of choice is a great way to get new customers interested in your business and gain more quality followers.
For example, one common method is to require followers to tag a certain number of people in the comments, or post to their stories, to be entered to win.
If you can get your existing audience excited enough about your contest or giveaway, this is basically guaranteed exposure. And not only does it increase your business's reach on social media, but it specifically increases awareness of your brand among your ideal customer base! This boosts the probability of meaningful engagement and sales in the future.
13. Shopping Sprees: The Exciting In-Store Promotion
One of the most exciting in-store sales promotions you can do is an "enter to win" contest that gives the winner a shopping spree in your store.
Of course, you have to be careful not to leave too much merchandise up for grabs because that could end up costing you dearly. However, allowing for a generous shopping spree can prompt powerful word-of-mouth marketing.
No doubt, the winner will be excited to share their good news and, after the spree is finished, to show off their goods. This user-generated content can put your business on the radar of potential customers and encourage them to check out what you offer.
14. Branded Gifts or Bundles: Offering Additional Value
Additional value for less can be very enticing, so you may bundle together your most popular or closely-related services for a reduced price. This is an excellent way to get people talking about your business.
Alternatively, you can offer branded gifts to existing customers and others. The more loyal a supporter of your brand, the more often they'll use your branded gifts. Who knows how many people will find out about, be reminded of, and check out your brand as a result?
Both bundles and branded gifts can spark a good deal of new interest in your business.
Businesses that give out promotional merchandise increase their chances of getting new customers by 83%.
15. Referral Discounts: Encouraging Customer Advocacy
Bringing new customers into the fold should always be on your radar. One way to keep the new customers rolling in is to offer discounts when current customers refer a friend or promote you on social media.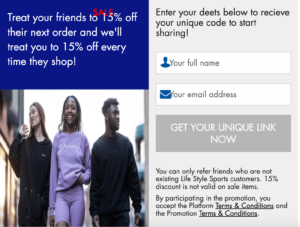 Alternatively, you could give money that can be put toward a customer's next purchase. In either case, you'll need to decide if the referral alone is enough or if the discount is only applied after the new customer makes a purchase. If you choose to offer a discount regardless of whether or not anything is purchased, try to place a threshold on the number of referrals required before the discount takes effect. For example, get 25% off your next visit if you make three referrals.
Which Sales Promotion Techniques Will You Adopt?
These 15 proven sales promotion examples and ideas include:
On Pack promotions
Free samples
Buy one, get one free deals
Cashback promotions
Lifestyle discounts
Flash sales and discounts
Vouchers and coupons
Charitable cause promotions
Free shipping and returns
Loyalty program promotions
Joint promotions
Social media contests or giveaways
Shopping sprees
Branded gifts or bundles
Referral discounts
No doubt, there are at least a few you could implement and test at little to no cost to you. And the benefits of leveraging sales promotions can be well worth the effort. So, what's your goal? Increase your sales? Get more repeat business? Boost awareness of your brand? All of the above? Then it's time to pick a sales promotion idea and run with it!
Additional Information to Consider in Sales Promotion
Insuring a promotion
Insuring a promotion or agreeing a fixed with your sales promotion agency offers financial security by mitigating potential losses. The insurance coverage ensures budget stability, fostering risk management and enabling companies to execute campaigns with confidence and peace of mind
Competitions
Giving away "money can't buy" prizes such as amazing experiences can keep the budget low while creating a big impact.
Lottery Licence
Depending on the jurisdiction and the value of the prize, a lottery license may be required for your promotion.
The Role of Technology
Gamification techniques, like spin the wheel or QR codes, can enhance the customer experience and engagement w
When it comes to sales promotions, it's important to consider the role of technology. With the right tools, you can create an interactive and engaging experience for your customers. For example, you could use a spin-the-wheel game to give out discounts or prizes. Or you could use QR codes to provide access to exclusive offers or discounts. Additionally, integrating your promotions with social media can help drive more engagement and reach a larger audience. Utilizing these tactics can help ensure that your promotion is successful and reaches its desired goal